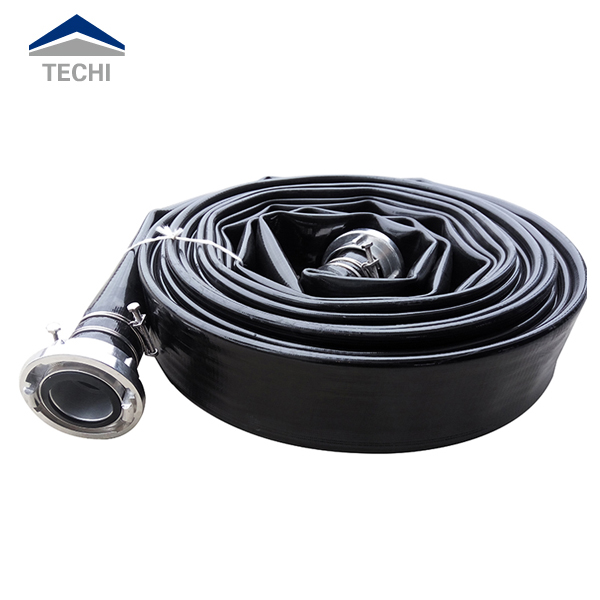 TPU Layflat Hose
Material:TPU/Polyester filament
Inner nominal diameter : DN25~DN350
working pressure:90PSI~450PSI
wall thickness:2mm~6.5mm
working temperature:-40℃~+80℃(233K~353K)
length of a reel: 20m~200m.
TPU flexible layflat hose 
Layflat hose is made from extruded thermoplastic polyester based polyurethane (TPU) with excellent wear & tear properties. The reinforcement is made from circular woven filament polyester yarn. The "extrusion through weave" production method gives a very strong bonding between cover and lining as well as firmly encapsulating the woven polyester.
TPU layflat hose Feature:
Superior abrasion resistance
Extremely hard wearing and durable for long service life
Ultra-high tensile strength
Resistance to oil, fuel and a wide range of chemicals
Resistance to weathering, UV and ozone
Lightweight and easy to handle compared to material handling hose in rubber
Available in different colors
Working Temperature
-50 C deg to +80 C deg (-58 F deg to +176 F deg)
high pressure TPU Layflat hose Specification:
Diameter
Inner Diameter
Thickness
W.P
B.P
Weight
Tensile Strength
inch
mm
inch
mm
psi
psi
Lb/ft
Kg/m
lbs
kg
4
102
0.138
3.5
200
600
0.89
1.34
27503
12500
4
102
0.118
3
150
450
0.76
1.14
19802
9000
6
152
0.157
4
200
600
1.5
2.25
48405
22000
6
152
0.118
3
150
450
1.12
1.68
37404
17000
8
203
0.165
4.2
200
600
2.15
3.2
77000
35000
8
203
0.146
3.7
150
450
1.81
2.7
52900
24000
10
254
0.177
4.5
200
600
2.88
4.3
99200
45000
10
245
0.165
4.2
150
450
2.55
3.8
66100
30000
12
305
0.173
4.4
150
450
3.20
4.8
92600
42000
TPU layflat  hose export package and production lines