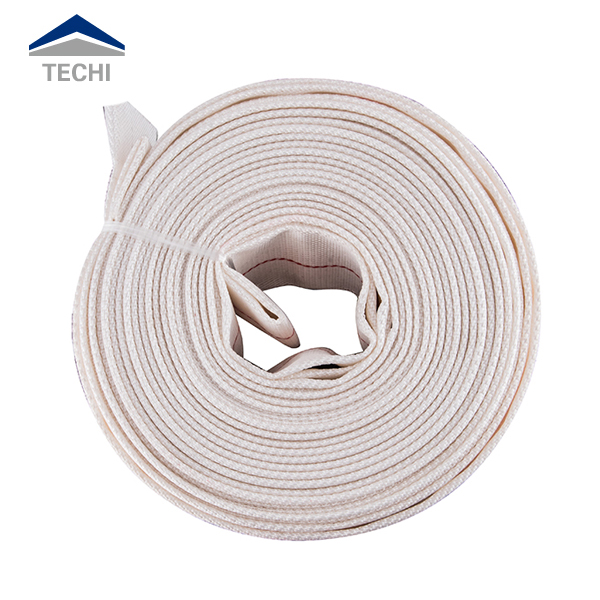 PVC PU Rubber Lining Double Jacket Fire Hose
INNER:PVC,PU,Rubber lining
JACKET: double Jacket
Working pressure: 10bar,13bar,16bar,20bar,25bar
Hose size:1 inch,1.5 inch,1.75 inch,2 inch,2.5 inch,3 inch,4 inch,5 inch,6 inch,8 inch.
Jacket color: white, red, yellow, blue, and other colors customized
PVC Single Jacket Fire Hose For Fire Fighting
The jacket of fire hose is wove by high intensity of polyester filament or polyester short-fiber (twill/plain weave)
Double jacket layflat fire hose is designed for Fire-fighting,Shipping, petroleum,Chemical industry, Agriculture, Mining.
it is the best choice for fire fighting hose.

Double jacket layflat fire hose Features:
1.High pressure resistance
2.High Abrasion resistance
3.Low-temperature resistance
4.Ozone resistance, Long service life.
5.Working pressure:10bar,13bar,16bar,20bar,25bar
6.Double jacket fire hose size: 1″ ,1-1/4″, 1-1/2″, 1-3/4″ , 2″ , 2-3/4″ , 3″ , 4″ , 5″ ,6″
Tianjin techi industrial supply PVC Single Jacket Fire Hose, Working pressure reaches 6 bar, 8 bar,10 bar,13 bar,16 bar,18 bar,20 bar. PVC or PU fire hose, Rubber lined fire hose, Flexible Double Jacket Pvc Lining Fire Hose, PVC layflat flexible irrigation hose,TPU layflat hose Corrosion resistant and anti-aging,easy use and store.
Specifications:
– Lining: PVC/ Rubber/ PU
– Jacket: high tenacity polyester yarn or fiber
– Max length 30m/roll
– Working pressure 8-20 bar

Double Jacket Fire Hose sizes and pressure:
Technical Parameters
| | | | | | | | |
| --- | --- | --- | --- | --- | --- | --- | --- |
| Item | ID | WP 0.2Mpa | WP     0.3 Mpa | WP 0.4Mpa | WP         0.6Mpa | WP   0.8Mpa | Mtr./roll |
| (inch) | mm | Kg/m | Kg/m | Kg/m | Kg/m | Kg/m | 100 |
| 1.5 | 38.1±1.5 | 0.17 | 0.22 | 0.24 | 0.27 | 0.3 | 100 |
| 2 | 50.3±2.0 | 0.22 | 0.32 | 0.35 | 0.375 | 0.39 | 100 |
| 2.5 | 63.5±2.3 | 0.3 | 0.4 | 0.45 | 0.48 | 0.52 | 100 |
| 3 | 76.2±2.3 | 0.35 | 0.5 | 0.57 | 0.63 | 0.69 | 100 |
| 4 | 101.6±2.5 | 0.48 | 0.62 | 0.72 | 0.8 | 0.9 | 100 |
| 5 | 127±2.8 | 0.7 | 0.85 | 0.95 | 1.1 | 1.2 | 100 |
| 6 | 152.4±3.0 | 0.85 | 1.05 | 1.3 | 1.5 | | 100 |
| 8 | 203.2±3.5 | 1.4 | 1.6 | 1.8 | 2.1 | | 50 |