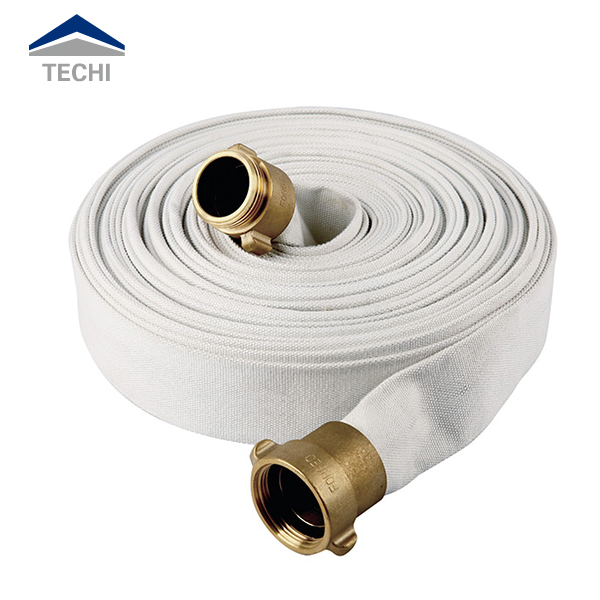 Fire Hose With Coupling Size 1″x30m 2″x20m
INNER:PVC Lining
JACKET:Single Jacket
Working pressure:  6 bar, 8 bar,10 bar,13 bar,16 bar,18 bar,20 bar
Hose size:1 inch,1.5 inch,1.75 inch,2 inch,2.5 inch,3 inch,4 inch,5 inch,6 inch,8 inch.
Jacket color: white, red, yellow, blue, and other colors customized
Fire Hose With Coupling Size 1″x30m 2″x20m
The jacket of fire hose is wove by high intensity of polyester filament or polyester short-fiber (twill/plain weave)
There are special adhesive (solid or liquid) between the jacket and the hose. the hose is soft and highly polished, reduce the flow resistance
Tianjin techi industrial supply PVC Single Jacket Fire Hose, Working pressure reaches 6 bar, 8 bar,10 bar,13 bar,16 bar,18 bar,20 bar. PVC or PU fire hose, Rubber lined fire hose, Flexible Double Jacket Pvc Lining Fire Hose, PVC layflat flexible irrigation hose,TPU layflat hose Corrosion resistant and anti-aging,easy use and store.
Specifications:
– Lining: PVC/ Rubber/ PU
– Jacket: high tenacity polyester yarn or fiber
– Max length 30m/roll
– Working pressure 8-20 bar
– Coupling:Standard pin lug coupling,camlock coupling,storz coupling,hose tail

Single Jacket Fire Hose sizes and pressure:
Diameter

(Inch/mm)

Working Pressure

(MPa/BAR/PSI)

Testing Pressure

(MPa/BAR/PSI)

Bursting Pressure

(MPa/BAR/PSI)

Length

(M/FEET)

1           25
1.0/10/150

1.3/13/195

1.6/16/240

2.0/20/300

1.5/15/220

2.0/20/300

2.4/24/360

3.0/30/450

3.0/30/450

3.9/39/580

4.8/48/720

6.0/60/900

10

15/50

20

25

30/100

1-1/2     40
2           50
2-1/2      65
3           80
3-1/2      90
4           100
4-1/2     115
5           125
5-1/2     140
6          150