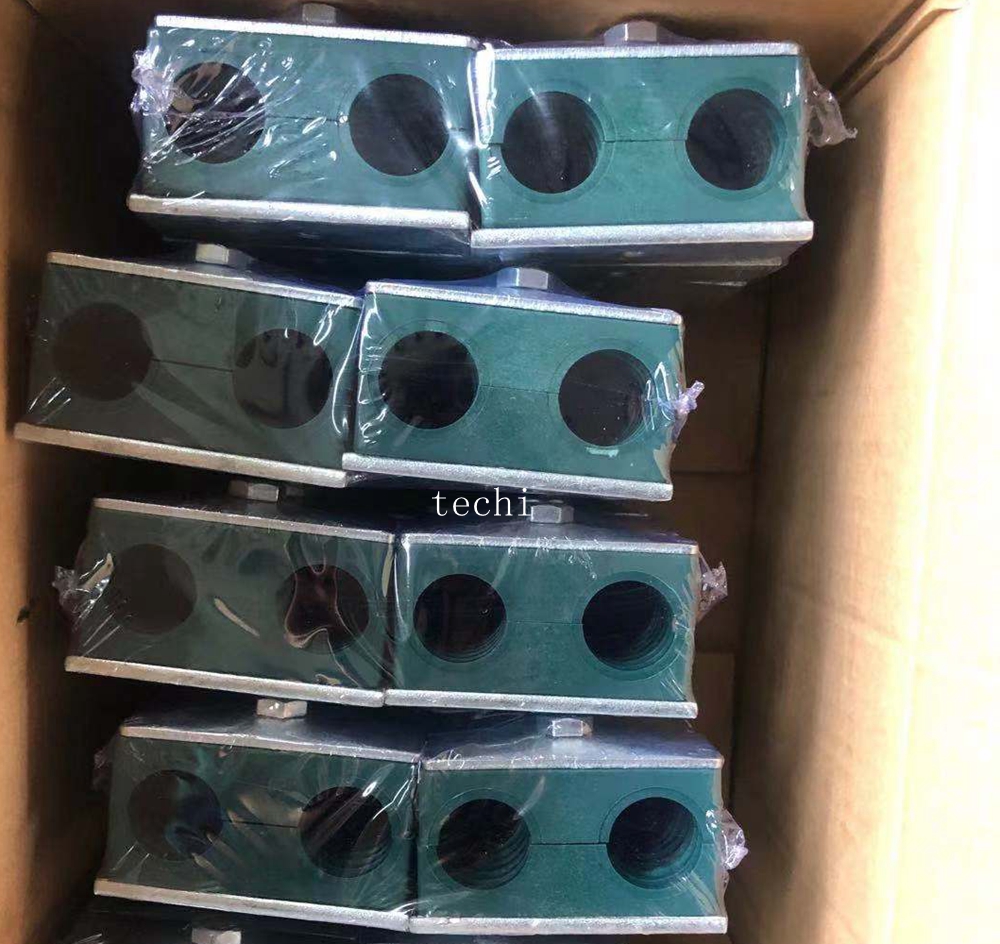 Hydraulic Standard Twin Series Pipe Clamp
Structure:assembly including cover plate, weld plate, clamp body,hexagon bolts
Sizes:Rang of O.D. 6mm  to 42mm
Working Temperature 
PP -30 degree up to +90 degree in dark green color
PA -40 degree up to +120 degree in dark color
AL -50°C up to +300°C Natural color
Q235 -80°C up to +500°C Galvanizing or parkerising
SUS304 or SUS316 -80°C up to +500°C Natural color
Hydraulic Standard Twin Series Pipe Clamp
Techi industrial Co.,ltd is hydraulic pipe clamp factory and manufacturer in CHINA, Our products cover heavy series pipe clamp, light series pipe clamp, twin series pipe clamp, U form clamp, Saddle clamp,plastic pipe clamp,polyamide pipe clamp. Pipe clamp plates surface treatment:Electroplating (galvanizing, nickel plating, gilding, etc.), painting, heat treatment, carbonitriding, etching, powder painting, polishing, electroplating, sandblasting, anodizing, passivation
HEAVY SERIES HYDRAULIC Twin PIPE CLAMPS are available in a single heavy (SH) unit two (2) bolt design, or a double heavy (DH) unit four (4) bolt design.
Heavy Twin pipe clamp series can be supplied in 5 series for normal mechanical stress,tube O.D 6 to 102mm.( 6~102mm)
Properities
Polypropylene(PP)
Polyamide(PA)
Aluminium(AL)
Density
0.906/cm³
1.12-1.15g/cm³
2.9-3.2g/cm³
Flexural Deflection
36N/mm²
130-200N/mm²
170N-400N/mm²
Impact Resistance
No Break
No Break
No Break
Compressive strength
90N/mm²
120N/mm²
60-80HB5/250
Modulus of
Elasticity
1500N/mm²
3000N/mm²
70000N/mm²
Tensile Strength
25-35N/mm²
80-90N/mm²
180-300N/mm²
Temp.Resistance
 -30~+90℃
-40~120℃
-75~300℃
Colour
Dark Green or
customized colour
Black,Green or
customized colour
Silver white
Heavy Duty Hydraulic Pipe Clamp Double Hole size:

Techi industrial produce high quality hydraulic pipe clamps,Weld And Cover Plates Are Made From Low Carbon Steel Material OR (SS304, SS316, Are Available As Per Client Requirement).
Heavy Duty Hydraulic Twin Series Pipe Clamp Package and production lines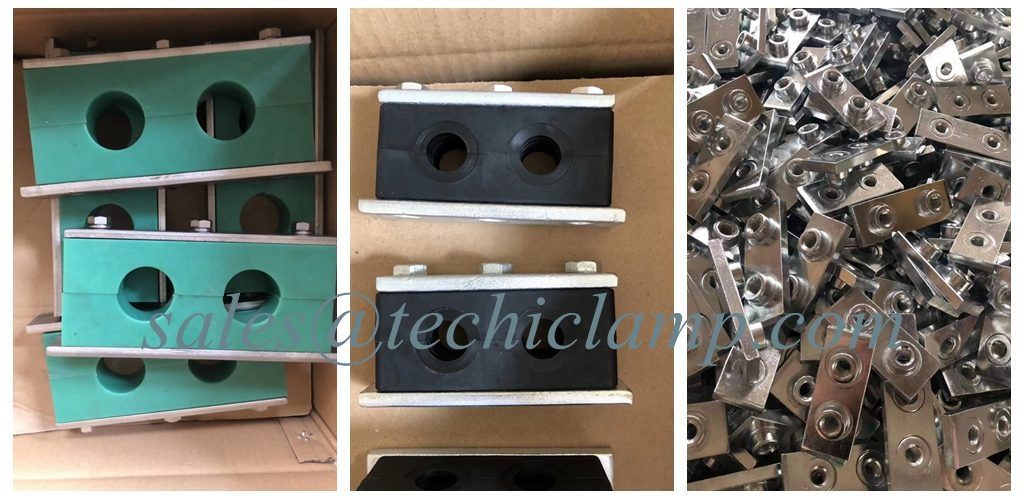 Top quality hydraulic pipe clamp manufacturer in CHINA,Contact us for price and more details!