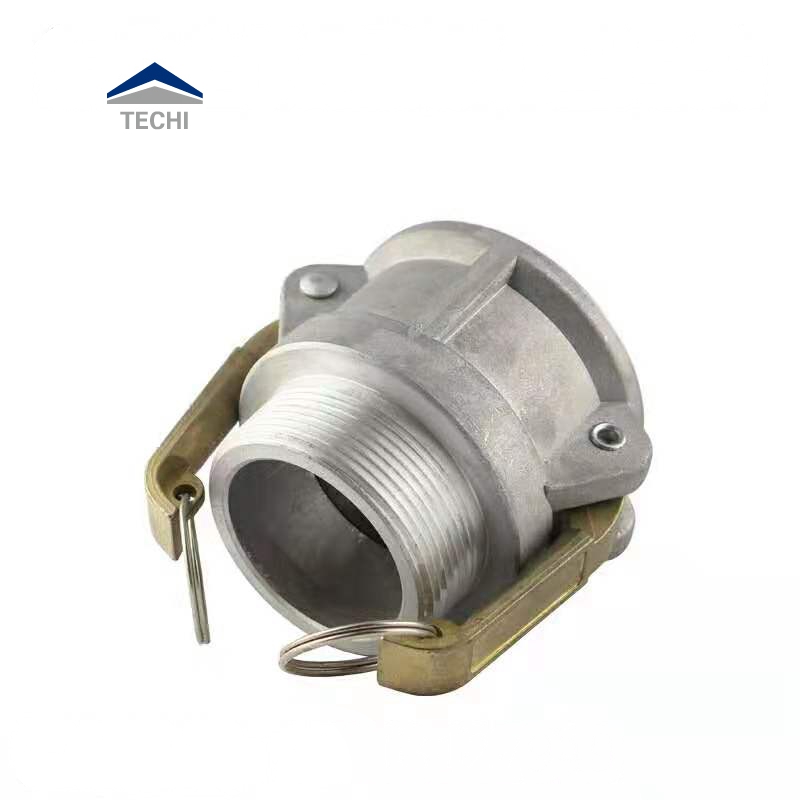 Material:aluminium;
Threads: NPT, BSP (BSPP,  BSPT)
Type:Type D
Size:1/2″,3/4″,1″,1-1/4″,1-1/2″,3″,4″,5″,6″
Surface Treatment:highly polished
Aluminium Camlock Coupling Type D
Camlock fittings type D are also known as camlock coupling type D. Camlock fittings are used in all kinds of industrial applications around the world, and they are commonly used for hose attachments. Common uses range from chemical to pharmaceuticals and foodstuff. Camlock coupling type D made of Aluminium Brass Nylon,PP,Stainless steel AISI304 AISI316L, camlock fittings are designed to quickly attach and detach using an adapter and a coupler.
Type D Coupler – Aluminum Cam and Groove Female Coupler x Female NPT Thread
Type D couplers are normally used with type A adapters but can be used with Type E and F adapters and DP (Dust Plug) of identical size.
Aluminium camlock coupling type D parameter
Product
camlock coupling type D
Material
stainless steel 316,304; brass; aluminium; PP
Place of origin
 china
Type
A / B / C / D / E / F / DC / DP / AA / DD / AD
Thread
NPT/BSP/BSPT/DIN2828.
Assembly   parts
stainless steel, brass, aluminium handles, pins  rings and safety pins
Connection
male; female
Size
1/2″-6″; DN15-DN150
Gasket
buna(NBR),viton and teflon, silica
Test  pressure
3/4″-2″  250PSI(17.6bar);

3″-4″    200PSI(14.8bar);
21/2″  225PSI(15.8bar);

6″      150PSI(10.5bar)

Workmanship
precision casting or forged
Application
 petroleums,textiles,minings,brewings,
inks, dyes, paper mills, processing plants
chemicals, fertilizers, chemicals,
Processing
CNC lathe processed
Packing
plastic bag → carton → wooden pallet
Aluminium camlock coupling type D size:
Size(Inch)
1/2″
3/4″
1″
1-1/4″
1-1/2″
2″
2-1/2″
3″
4″
5″
6″
Size
50
75
100
125
150
200
250
300
400
500
600
A
8
15
22
27
34
46
60
70
93
121
146
B
70
81
94
105
110
120
133
143
153
174
191
D
14
21
27
33.5
40.5
53.5
67
78
103
132
155
E
29
30
36
44
44
49
53
53
55
61
67
weight
0.15
0.19
0.26
0.43
0.47
0.63
0.88
1.27
1.94
3.45
4.55
To equip with  "A" or"E" or "F" or"DP"