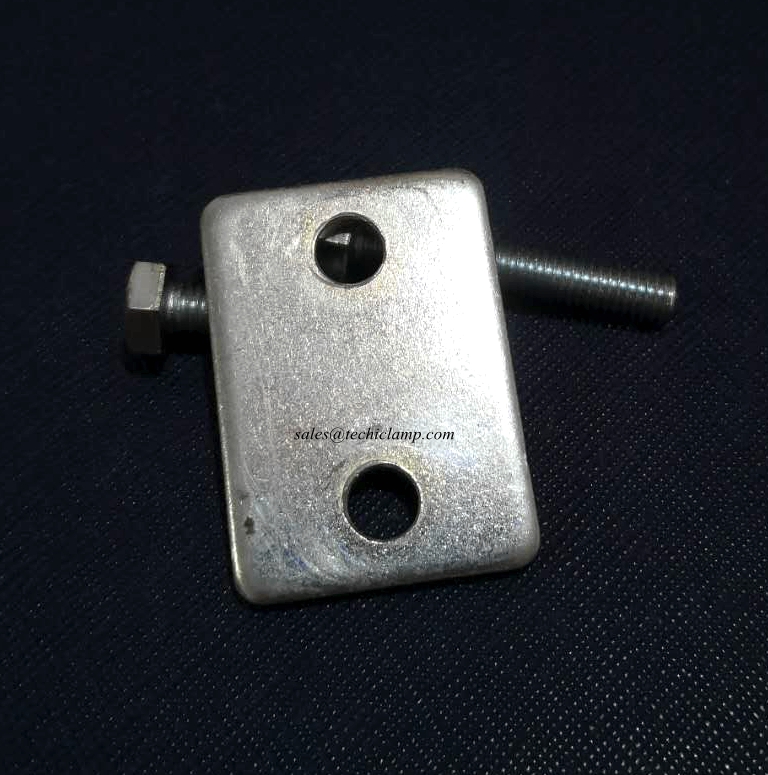 Tube Clamp Cover plate DIN3015 Part-1
Structure:assembly including cover plate, weld plate, clamp body,hexagon bolts
Sizes:Rang of O.D. 6mm  to 102mm
Material:

Carbon steel(zinc coated/phosphated)/stainless steel AISI304 AISI316
Tube Clamp Cover plate DIN3015 Part-1
Techi industrial Co.,ltd is hydraulic pipe clamp factory and manufacturer in CHINA,
Techi Industrial is Standard series Tube Clamp manufacturer in CHINA.Standard series Pipe Clamp DIN3015 Part-1 are designed for locating wires, cables, and components in instruments, appliances, and electrical apparatus. These injection-molded clamps are used for both internal and external installations. The inside edges are smoothed to prevent cutting into cable insulation. Made of lightweight and durable plastic material, these P-shaped clamps are designed to secure cable, hose, and wire bundles by attaching them to existing holes.
Hydraulic tube clamp range:
Light series tube clamp DIN3015-Part 1 can be supplied in 8 series for normal mechanical stress,tube O.D 6 to 102mm.(6~102mm)
Heavy series tube clamps DIN3015-Part 2 can be supplied in 11 series for high mechanical stress,Tube O.D 6 to 508mm.( 6~508mm)
Twin series tube clamp series DIN3015-Part 3 can be supplied in 5 series for normal mechanical stress,tube O.D 6 to 42mm.( 6~42mm)
Tube clamp cover plate DIN3015 Part-1 material:
| | |
| --- | --- |
| Tube clamp cover plate material code |   |
| Carbon Steel, phosphated | W1 |
| Carbon Steel, zinc/nickel-plated | W2 |
| Stainless Steel V2A | W3 |
| 1.4301 / 1.4305 (AISI 304 / 303) Stainless Steel V4A | W4 |
| 1.4401 / 1.4571 (AISI 316 / 316 Ti) | W5 |
| Aluminium EN AW-6060 | W85 |
Hydraulic pipe clamp/tube clamp DIN3015 Part-1 Size:
Techi industrial Co., manufacture Hydraulic pipe clamp/tube clamp DIN3015,Part-1 to fix pipe with outer diamater:

Pipe clamp/tube clamp DIN3015,Part-1 Size 6-16 mm

Hydraulic Pipe clamp/tube clamp DIN3015,Part-1 Size 6mm   8mm   10mm
12mm  12.7mm   13.5mm   14mm   15mm   16mm   17.2mm   18mm

Pipe clamp/tube clamp DIN3015,Part-1,Size 18-28 mm  

Hydraulic Pipe clamp/tube clamp DIN3015,Part-1 Size 18mm 19 mm  20 mm  
21.3 mm  22 mm  23 mm  25 mm  26.9 mm   28 mm   30 mm

Pipe clamp/tube clamp DIN3015,Part-1,Size 30-42 mm

Hydraulic Pipe clamp/tube clamp DIN3015,Part-1 Size 30 mm 32 mm 33.7 mm  
35 mm   38 mm   40 mm   42 mm

Pipe clamp/tube clamp DIN3015,Part-1,Size 45-70 mm  

Hydraulic Pipe clamp/tube clamp DIN3015,Part-1 Size 45 mm   48.3 mm
50mm 51mm 52mm 55mm 57mm  60.3mm 63mm 65mm 70 mm

Pipe clamp/tube clamp DIN3015,Part-1,Size 73-90mm

Hydraulic Pipe clamp/tube clamp DIN3015,Part-1 Size 70mm  73mm
75mm   76.1mm   80mm   82.5mm   88.9mm   90mm

Pipe clamp/tube clamp DIN3015,Part-1,Size 97-102mm

Hydraulic Pipe clamp/tube clamp DIN3015,Part-1 Size size
97mm   100mm  102mm
Tube clamp cover plates DIN3015 part-1 size:

Light series Tube Clamp cover plate  Package and production lines