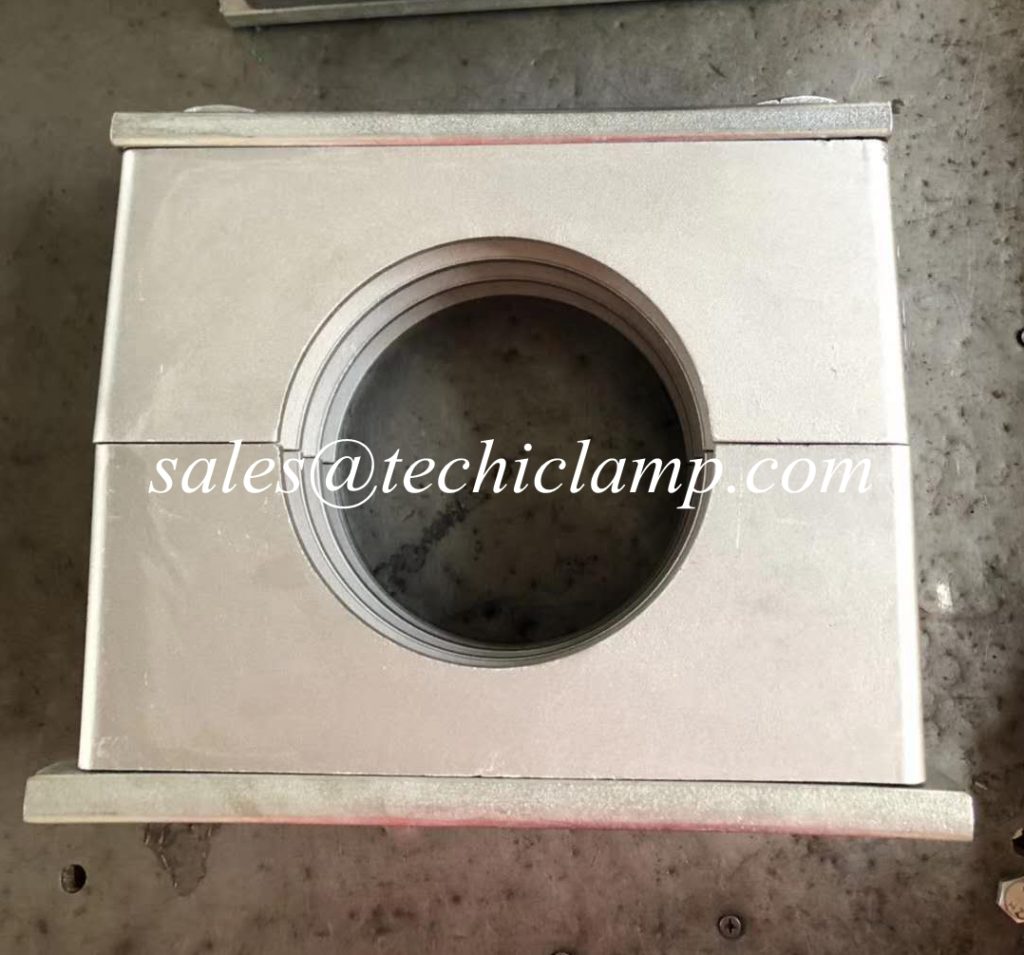 Aluminum Hydraulic Pipe Clamp
Structure:assembly including cover plate, weld plate, clamp body,hexagon bolts
Sizes:Rang of outside diameter O.D. 6 mm to 450 mm / .24 inch to 17.71 inch.
Working Temperature 
AL Aluminium -50°C up to +300°C Natural color
Standard series / light duty stauff type polyamide pipe clamp
Aluminum series Pipe -Tube clamps are normally used for high temprature applications (more than 1000 degree celcius) & the W.P. range more then 1500 PSI (100 BAR) and up to 8000 psi (600 BAR) in the Steel / stainless steel Piping System.
Features
Designed according to DIN 3015 – Part -2
Aluminum Pipe – Tube clamp bodies with Steel / S.S. plates & bolts.
Available along with Multilayer, Welding plates, Rail Nuts, etc.
Can be availed in different construction types including Rubber Inlay Types & many more
Techi is a manufacturer of Aluminium Tube Pipe Clamp in CHINA. Emerging as a prominent name of the industry, our organization is engaged in manufacturing and supplying a comprehensive range of high grade Aluminium Tube Pipe Clamps.we are leading supplier of Aluminium Pipe Clamp in CHINA. The offered range of Aluminium Tube Clamp is engineered by our professionals using high grade raw material and cutting-edge technology. Further, we assure to deliver these AL Aluminium tube Pipe Clamp at Techi' premises within stipulated time frame
Top & Bottom Plates
Steel (ST 37.5, IS 2062, IS 1018) With Trivalent Zinc Coated/Galvanized Steel /phosphatised Finish.
Stainless Steel ( SS 304, SS 316) With Natural Finish
Bolts – Galvanized Steel ( 4.6, 8.8, 10.9 Grade), Stainless Steel (SS 304, SS 316 Grade)
Size – 6 Mm To 219mm & ¼" To 8"
Series – Standard Series & Heavy Series
Aluminium Hydraulic Pipe Clamp Size:
Techi industrial Co., manufacture hydraulic pipe clamps to fix pipe with outer diamater:
Size 6-16 mm
Aluminium Heavy Duty Hydraulic Pipe Clamp Single Hole 6mm   8mm   10mm
12mm  12.7mm   13.5mm   14mm   15mm   16mm   17.2mm   18mm
Size 18-28 mm
Aluminium Heavy duty hydraulic tube clamp size 18mm   19 mm   20 mm
21.3 mm   22 mm   23 mm   25 mm   26.9 mm   28 mm   30 mm
Size 30-42 mm
Aluminium pipe clamp size 30 mm 32 mm 33.7 mm
35 mm   38 mm   40 mm   42 mm
Size 45-70 mm
Aluminium hydraulic pipe clamp single hole size 45 mm   48.3 mm
50mm 51mm 52mm 55mm 57mm  60.3mm 63mm 65mm 70 mm
Size 73-90mm
Aluminium hydraulic pipe clamp single hole size 70mm  73mm
75mm   76.1mm   80mm   82.5mm   88.9mm   90mm
Size 97-127mm
Aluminium tube pipe clamp single hole size
97mm   100mm  101.6mm  108mm   114.3mm   127mm
Size 133-168mm
Aluminium Heavy duty hydraulic pipe clamp single hole size
133mm  140mm   150mm  152.4mm 159mm 165.1mm 168.3mm
Size 168-220mm
Aluminium Heavy duty hydraulic pipe clamp single hole size
168.3mm   177.8mm   193.7mm   203mm   219.1mm   220mm
Manufacturing and supplying Aluminium pipe clamp as following: