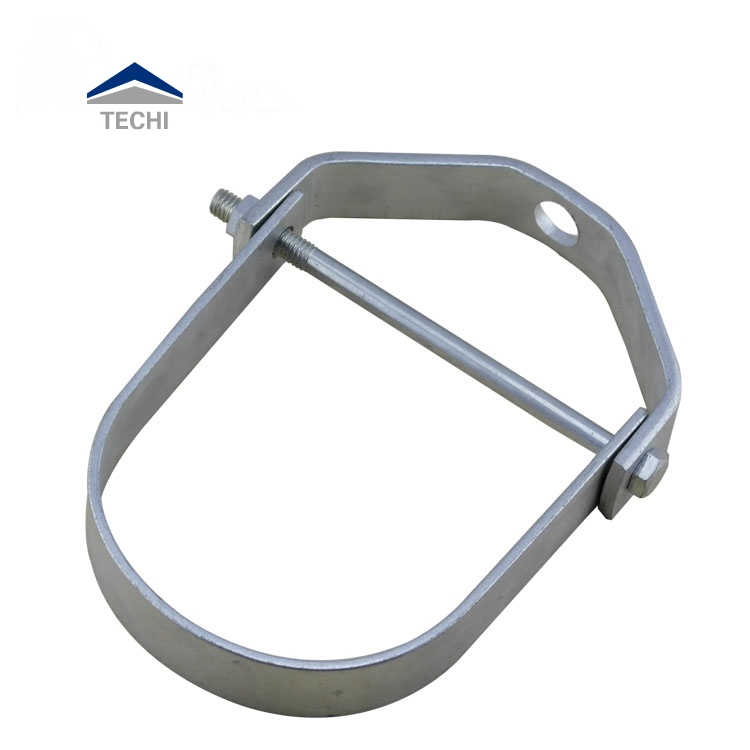 Steel Pipe Clevis Hanger Clamp:
Material: Carbon Steel, Stainless Steel.
Finish: EG, HDG
OEM and other sizes are available
Size range:3/4″through 14″
Steel Pipe Clevis Hanger
Techi industrial are the trusted supplier in offering wide range of Clevis Clamp. These are qualitative range of clevis clamps that are deployed in water lines, drainage lines, fire-fighting lines, and sprinkler lines of all types of pipe materials like pvc, cast iron, galvanized iron, copper and stainless steel for holding them in place. These are available at affordable price in market.
Size range:3/4″through 14″
Material:carbon steel,stainless steel 201 304
Finish:electro-plated zinc,hot dip galvanized
Feature :
1)Bigger adjusting range
2)Evenly stress when fastening
3)Wrest resistant and high crushing strength
6)sizes: by customers' requirements
7)high quality and competative price
8) It has different bandwidths as per the different sizes.
9)The band thickness is also different for different bandwidths
Clevis Hanger clamp size:
Clevis Hanger
Item No.
Pipe Size
Max Recom.Load,lbs.
Weight(Approx.)lbs.per 100
Size Of Steel
upper
lower
CWC-CS1
1/4″
730
34
1/8*1
1/8*1
CWC-CS2
1/2″
730
34
1/8*1
1/8*1
CWC-CS3
3/4″
730
39
1/8*1
1/8*1
CWC-CS4
1″
730
44
1/8*1
1/8*1
CWC-CS5
1-1/4″
730
45
1/8*1
1/8*1
CWC-CS6
1-1/2″
730
55
1/8*1
1/8*1
CWC-CS7
2″
730
61
1/8*1
1/8*1
CWC-CS8
2-1/2″
1350
140
3/16*1-1/4
3/16*1-1/4
CWC-CS9
3″
1350
152
3/16*1-1/4
3/16*1-1/4
CWC-CS10
3-1/2″
1350
170
3/16*1-1/4
3/16*1-1/4
CWC-CS11
4″
1430
213
1/4*1-1/4
3/16*1-1/4
CWC-CS12
5″
1430
244
1/4*1-1/4
3/16*1-1/4
CWC-CS13
6″
1940
357
1/4*1-1/2
3/16*1-1/2
CWC-CS14
8″
2000
497
1/4*1-3/4
3/16*1-3/4
Contact us for price and more details on Clevis hanger clamp: