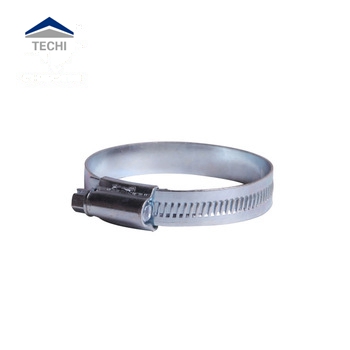 Full Thread British Type Hose Clamp
1 Bandwidth:9.7mm and 11.7mm
2 Material: W1//W2/W4
3 It is with non-slotted band.
Regarding the material, it can be divided into the following three types:
Materials:
W1–All is galvanized steel
W2–The screw is galvanized steel, others is AISI 300 series.
W4–All is AISI 300 series stainless steel
British Type Hose Clamps
British Style hose clamps is based on the BS-5315 specification. The three component design produces a robust clip optimizing free torque, with high final torque and the strong material allows the use of thinner band, thus giving band flexibility which readily conforms to the shape of the hose.
British type hose clamp material:
Materials:
W1–All is galvanized steel
W2–The screw is galvanized steel, others is AISI 300 series.
W4–All is AISI 300 series stainless steel
British type hose clamp is made of carton steel and stainless steel ,with the band width 9.7mm,11.7mm and thickness 0.8mm,0.9mm, with feature of high torsional resistance and compressive strength
The British type hose clamp can work of torque 5-10Nm, high compressive strength of 1.3Mpa, widely used in the automobile industry, shipbuilding industry, machinery industry in various equipment oil, water, gas pipeline, They are ideal accessories for various hoses connecting and fastening
Features:
*Simple housing structure
*Excellent leak tightness
*Uniform pipe seal
*Wide range of diameter
*Good pipe protection
*High mounting force
British Type Hose Clamps size: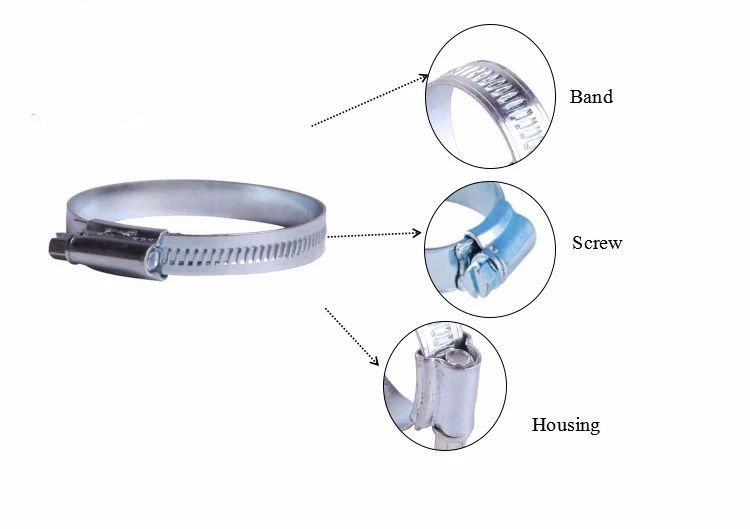 Size(mm)
Bandwidth(mm)
pcs/bag
pcs/carton
carton size
000 10-16
9.7mm
20
1000
28*25*17
00 13-19
20
1000
33*25*17
0 16-25
20
1000
31*31*21
0X 19-29
20
1000
42*22*25
1A 22-32
11.7mm
10
500
34*21*24
1# 25-38
10
500
34*21*24
1X 32-44
10
500
39*20*25
2A 35-51
10
500
38*29*24
2# 38-57
10
500
35*30*30
2X 44-64
10
500
42*30*30
3# 51-70
10
500
45*30*30
3X 64-76
10
500
41*33*32
4# 70-89
10
500
40*37*41
4X 76-92
10
500
41*36*42
5# 80-100
10
500
41*36*42
5X 90-110
10
500
41*37*43
6# 100-120
10
500
43*41*47
Jubilee series hose clamp: