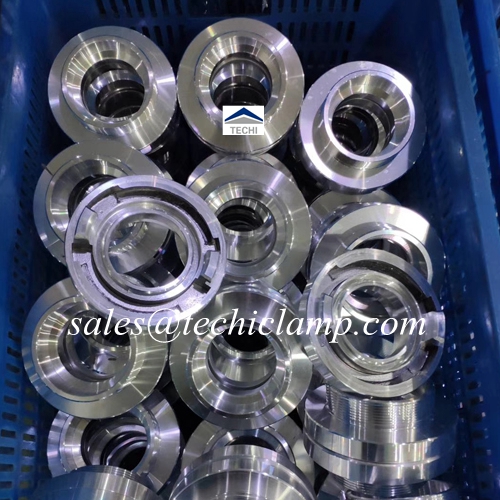 SIZE: 3/4″, 1″, 1 1/2″, 1 3/4″, 2″, 2 1/2″, 2 3/4″, 3″,4″,5"
Material: Seal: Aluminium (Al), brass (Ms), stainless steel (SS)
Working press.:16 bar
Seal:White NBR rubber for aluminium, black NBR rubber for brass, Viton for stainless steel
Storz coupling male thread
storz hose couplings and Storz fittings to suit pipework fire hose layflat hose from 1/2″ to 6",Our Storz couplings are manufactured in accordance with the DIN Standard dimensions.
We can supply fittings in Cast Aluminium Alloy Storz coupling, Forged Aluminium Storz coupling, Brass Storz coupling and Stainless Steel 304 Storz coupling.
Storz couplings have no male or female halves and the size is specified by the distance between the locking lugs in millimetres, along with the pipe or hose side termination
| | |
| --- | --- |
| Product Name | Storz coupling male thread |
| Material | Aluminium/stainless steel/Brass |
| Surface treatment | sand blast/shot blast/anodize/spray paint |
| Standard | DIN/ISO/EN/STD |
| Specification | customized |
| Processing | Forging |
| Heat treatment | as required |
| Used | Automobile / industrial accessories / machinery / building / automation |
STORZ couplings made of aluminium are the most popular (cast or forged). The cast couplings have lower material strength and are more prone to casting defects. They can be used only for low working pressure (max. 6 bar) and for less demanding applications. As a standard we supply the high quality forged couplings with working pressure up to 16 bar, however we also stock the less expensive cast couplings.
Storz coupling male coupling size:
| | |
| --- | --- |
| Size: | Lug distance: (mm) |
| Storz coupling with male thread 1″ | 31 – 44 – 66 |
| Storz coupling with male thread 1 ¼" | 44 – 66 |
| Storz coupling with male thread 1 ½" | 51 – 66 |
| Storz coupling with male thread 2″ | 51 – 66 – 81 – 89 |
| Storz coupling with male thread 2 ½" | 66 – 81 – 89 |
| Storz coupling with male thread 3″ | 81 – 89 |
| Storz coupling with male thread 4″ | 115 – 133 |
| Storz coupling with male thread 5″ | 160 |
| Storz coupling with male thread 6″ | 188 |
| Storz coupling with male thread 8″ | 220 |
STORZ couplings are designed for industrial applications transferring loose and liquid products. Widely used in fire departments, irrigation systems, chemical and food industry, agriculture, etc.
Storz coupling application: