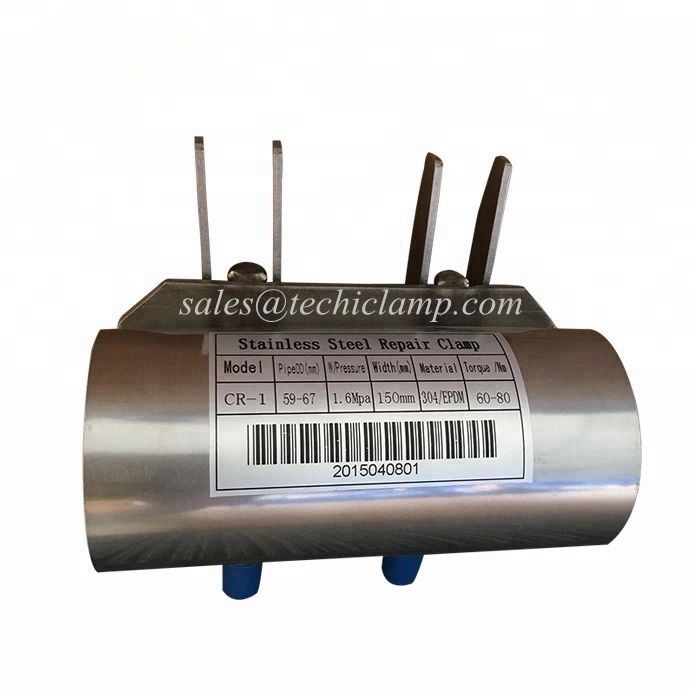 Stainless steel Band Repair Clamp CR
Rubber sealing gasket:EPDM/NBR/SILICONE/VITON/GORE-TEX
Bolts:SUS304/316,or cast iron with Q235B galvanization
Nuts:SUS304/316,or cast iron with Q235B galvanization
Washer:SUS304/316,or cast iron with Q235B galvanization
Stainless steel Band Repair Clamp CR
Tianjin techi industrial is one of top band repair clamps CR manufacturer in CHINA,we produce stainless steel AISI304 band repair clamp CR,Stainless steel AISI316L band repair clamp coupling CR-1 CR-2
Pipe Connection applied to connection of various kinds of metal pipes and composite materials of pipelines.
Stainless steel Band Repair Clamp CR also called Two-plate plate repairer CR-2 stainless steel Pipe Repair Clamps,
The plate patcher is suitable for the rapid repair of pipeline leakage. It can quickly repair, install, and construct the aging and rust-making pipes with sand holes and fractures without changing the pipeline. It does not require special tools. Can be construction operations. The product has a wide range of applications, and it has low requirements for the circularity of the pipe and has strong versatility.
Specification of Stainless steel Band Repair Clamp CR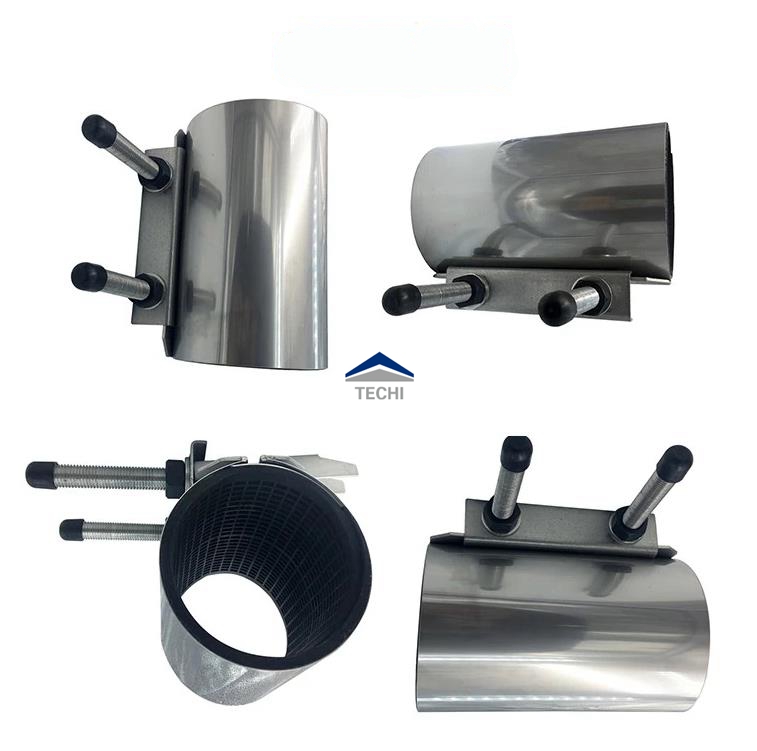 | | | | | |
| --- | --- | --- | --- | --- |
| Diameter range (mm) | Working pressure     bar | Diameter range (mm) | Working pressure     bar | Length (mm) |
| CR-1 | PN | CR-2 | PN | W |
| 59-67 | 16 | | | 150-600 |
| 65-73 | 16 | | | 150-600 |
| 69-76 | 16 | | | 150-600 |
| 75-83 | 16 | | | 150-600 |
| 86-94 | 16 | 88-108 | 16 | 150-600 |
| 108-118 | 16 | 108-128 | 16 | 150-2000 |
| 113-121 | 16 | 113-133 | 16 | 150-2000 |
| 121-131 | 16 | 120-141 | 16 | 150-2000 |
| 126-136 | 16 | 168-188 | 16 | 150-2000 |
| 132-142 | 16 | 174-194 | 16 | 150-2000 |
| 145-155 | 16 | 219-239 | 16 | 150-2000 |
| 151-161 | 16 | 228-249 | 16 | 150-2000 |
| 159-170 | 16 | 238-258 | 16 | 150-2000 |
| 166-177 | 16 | 258-278 | 16 | 150-2000 |
| 170-180 | 16 | 273-293 | 16 | 150-2000 |
| 174-184 | 16 | 282-302 | 16 | 150-2000 |
| 179-189 | 16 | 295-315 | 16 | 150-2000 |
| 189-199 | 16 | 324-344 | 10 | 150-2000 |
Advantage of Techi Pipe repair clamp Gear-Ring GR series
Multi-functional clamp pipe repair device is mainly used for rapid repair pipeline leaks, you can not stop the pressure, without changing the pipe case, the aging, corrosion caused by pipe hole, fracture and other rapid repair. Easy installation, high construction efficiency, without special tools to construction operations
Installation for pipe repair clamp: