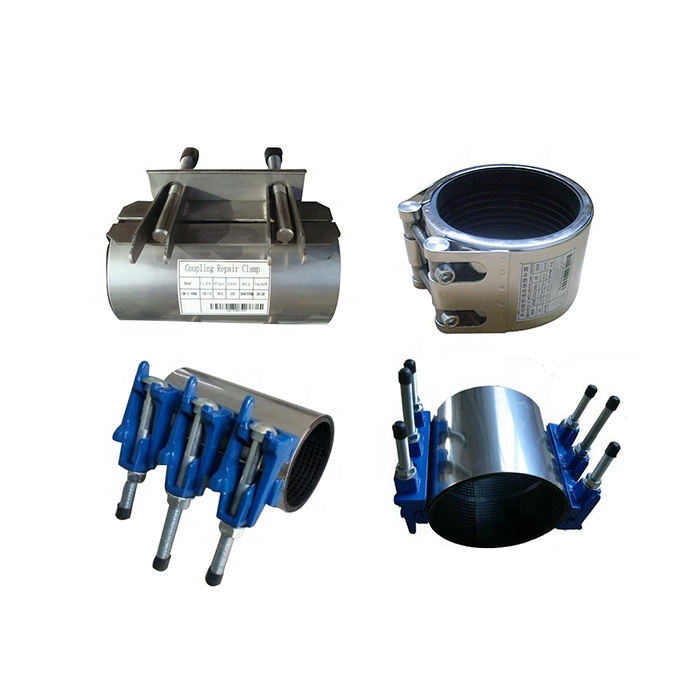 Pipe Repair Clamp MF
Main Parts:Shell,Bridge Plate,Bolts,Nuts and Washers,Lift-bars and Receiver-lugs
Surface treatment:Acid pickling and passivation
Passivated:Chemically treated after welding for corrosion-resistant coating
Rubber sealing gasket:EPDM/NBR/SILICONE/VITON/GORE-TEX
Bolts:SUS304/316,or cast iron with Q235B galvanization
Nuts:SUS304/316,or cast iron with Q235B galvanization
Washer:SUS304/316,or cast iron with Q235B galvanization
Pipe Repair Clamp MF Multi Function
Pipe Connection applied to connection of various kinds of metal pipes and composite materials of pipelines.
Pipe Repair Clamp creates a unique pipeline connection technology with its original design. It breaks through the traditional connection concept, and uses stainless steel and rubber to make components combination device to achieve the sealing and pressure bearing function.
The  pipe repair clamp pipeline connection allowable angular deflection, provide restraint and strong sealing. It can provide safe, fast and steady connection and very good effect of anti-vibration and noise reduction.
As well as the function of distance compensation in pipe ends. Easy to be installed and disassembled and reusable.
Specification of pipe repaire clamp MF
| | | | |
| --- | --- | --- | --- |
| Model No. | Suitable for outer diameter of pipe (±3mm) | Working Pressure | Width |
| MF-S-32 | 38.0 / 40.84 / 42.7 | 69 | 57 |
| MF-S-40 | 44.5 / 48.6 / 50.8 | 76 | 57 |
| MF-S-50 | 54.05 / 57.0 / 60.5 / 63.5 | 105 | 80 |
| MF-S-65 | 66.75 / 68.0 / 73.0 / 76.8 | 129 | 80 |
| MF-S-80 | 79.85 / 84.0 / 89.1 / 98.0 | 153 | 107 |
| MF-S-100 | 104.0 / 108.27 / 108.0 / 114.3 / 118.0 | 167 | 107 |
| MF-S-125 | 129.0 / 133.0 / 139.8 / 141.3 | 224 | 116 |
| MF-S-150 | 154.0 / 159.0 / 165.2 / 168.3 | 253 | 116 |
| MF-S-200 | 204.0 / 210.3 / 219.0 | 452 | 155 |
| MF-S-250 | 254.0 / 267.4 / 273.0 | 498 | 155 |
| MF-S-300 | 304.0 / 318.6 / 323.0 / 326.0 | 615 | 155 |
| MF-S-350 | 377.00 | 653 | 155 |
| MF-S-400 | 426.00 | 786 | 155 |
Advantage of Techi Pipe repair clamp MF series
Multi-functional clamp pipe repair device is mainly used for rapid repair pipeline leaks, you can not stop the pressure, without changing the pipe case, the aging, corrosion caused by pipe hole, fracture and other rapid repair. Easy installation, high construction efficiency, without special tools to construction operations
Installation for pipe repair clamp: