Interlock Four Bolts Hose Clamp Manufacturer:
Two Bolt hose clamp Size: 1″,1-1/4″,1-1/2″,2″,2-1/2″,3″ 4″
Interlock four bolts clamps use for ground joint couplings
Mateial: Malleable cast iron
Finish: Zinc galvanise finished
Interlock Hose Clamps/Four Bolt Hose Clamps Manufacturer
Interlock Four Bolt Hose Clamps clamps also called interlock hose clamp, Battery Clamp,Hose Fitting which are designed to lock into the collars provided on hose stems. This feature prevents ‑ ftting pull-out. Two or Four Bolt Hose Clamps clamps are plated ductile iron. Clamps have two, four, or even six bolts depending on size.
Tianjin Techi Industrial is interlock four bolts four bolts hose clamps 1″,1-1/4″,1-1/2″,2″,2-1/2″,3″ 4″ manufacturer and wholesaler in CHINA
Two bolt & Four bolt Steam Hose Safety Bolt Clamps sizes in ready stock:
(small sizes 2 bolt, large sizes 4 bolt)
SIZE
PART NO.
2-BOLT CLAMPS
1/2″
TP-001
3/4″
TP-002
4-BOLT CLAMPS
1″
TP003
1-1/4″
TP004
1-1/2″
TP005
2″
TP006
2-1/2″
TP007
3″
TP008
4″
TP009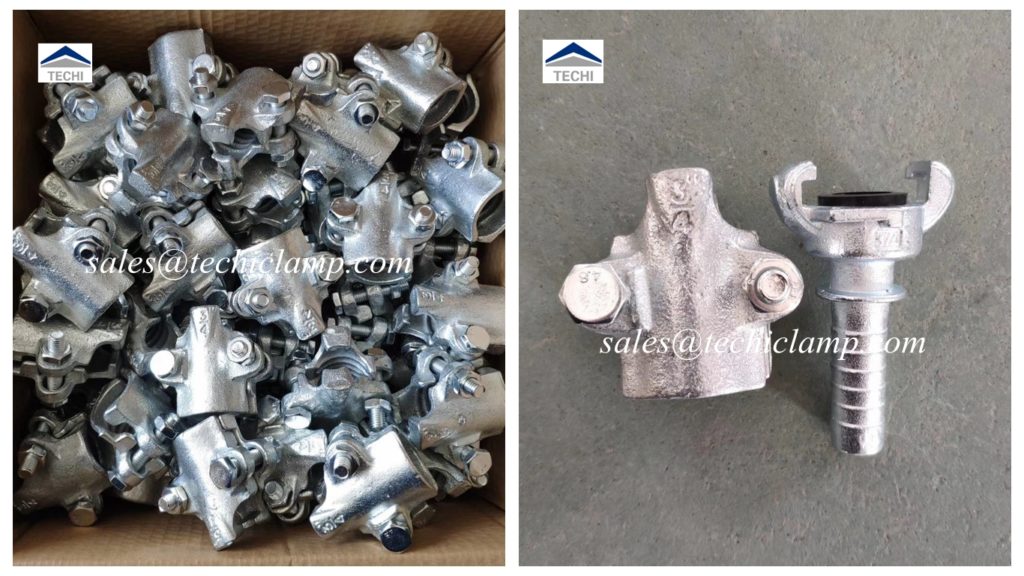 HOT sales market for two bolts four bolt hose clamp:
| | | | | |
| --- | --- | --- | --- | --- |
| Russia | Ukraine |          Kuwait | Bahrain | Qatar |
| UAE | Saudi Arabia | Oman | Dubai | Malaysia |
| Vietnam | Indonesia | Vietnam | United Kingdom | France |
| Brazil | Ecuador | Colombia | USA | Chile |
| Argentina | Germany | Nigeria | Sudan | Jordan |
| India | Netherlands | South korea | Turkey | Thailand |