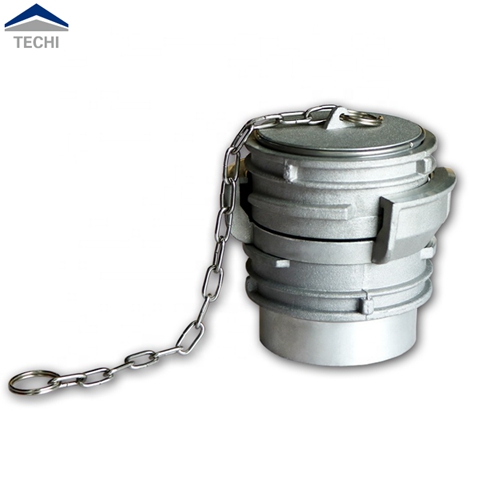 Guillemin Coupling specification:
Material: Alumiunium A356-T6 (Heat Treated), 
Standard:EN 14420-8/NF E29-572
Technical:Gravity Casting
Seal:NBR, EPDM, FPM, PTFE
Thread:BSP(Usually, Female Thread is BSPP and Male Thread is BSPT)
Guillemin Coupling
Guillemin Coupling are manufactured to a French standard so it is often called French type couplings.
It is suitable for transferring and conveying power and granule on tanker fleets. Also this kind of Guillemin Coupling has an identical locking head, that is to say there is no difference between the male and the female half. hereby it is also called symmetric type fittings or couplings.
Guillemin Coupling size:
SIZE
Type 
SIZE
Type 
1-1/2″
DN40x40
3''
DN80x76L
DN40x40L
DN80x80
DN40x45
DN80x90
DN40x45L
DN80x90L
2″
DN50x50
4''
DN100x100
DN50x50L
DN100x100L
DN50x55
DN100x105
2-1/2″
DN65x65
DN100x110
DN65x70
6''
DN150X150
Single Bolt hose clamp Package and production lines:
Techi Industrial can  manufacture quality Guillemin Coupling to suit your industries requirements.