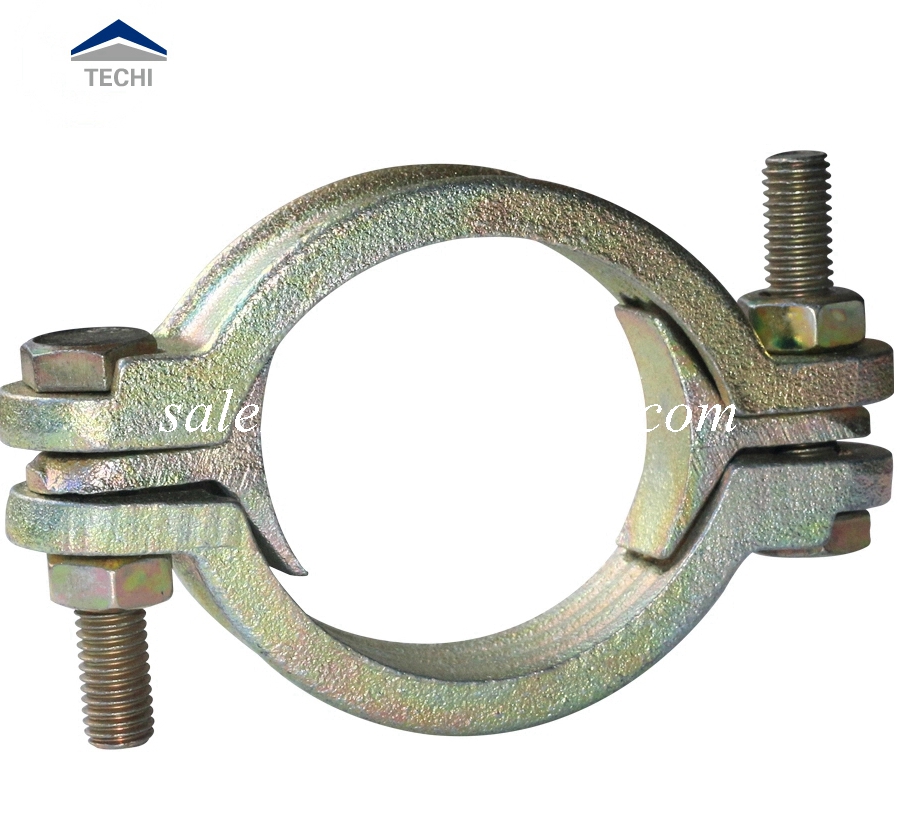 Double Bolts Hose Clamp SL manfuacturer:
1 Material:Malleable iron,Zinc plated,galvanized steel
2 Structure:machine bolts, hex nuts, and saddles.
3 Size:1-5/8″ to17-1/2″,SL22 till sl1125
4 Norm:DIN20039
Zinc Plated Double Bolt Hose Clamp
Double bolt hose clamps provide an efficient means of securing couplings for low pressure discharge or suction service. Double bolt hose clamps are sized for hose OD's from 1-5/8″ through 17-1/2″. As the bolts are tightened, the double-tongue saddles fill the gap between the bolt lugs preventing pinching of the hose OD. Fully tightened, the double bolt clamps secure the full circumference of the hose.
Tianjin Techi Industrial is Plated malleable iron double bolt clamps manufacturer,Carbon Steel double bolt clamp wholesaler.
Note: 
Please measure hose outer diameter (OD) accurately before ordering clamps.
Inner surface has dual gripping ridges
Bolt lugs are reinforced to prevent bending out of alignment
Torque values for clamps are based on dry bolts
Use of lubricant on bolts will adversely effect clamp performance
Contact us when using Double Bolt Clamps on helical wire hose
Double bolt hose clamp specification and size:
| | |
| --- | --- |
| ITEM | DOUBLE BOLT CLAMP RANGE |
| SL-22 | 21/32″-7/8″ |
| SL-29 | 7/8″-1-9/64″ |
| SL-34 | 1-5/16″-1-10/32″ |
| SL-49 | 1-5/8″-1-15/16″ |
| SL-60 | 1-7/8″-3-7/16″ |
| SL-76 | 2-3/8″-3-7/16″ |
| SL-94 | 3-1/2″-3-11/16″ |
| SL-115 | 3-3/4″-4-1/2″ |
| SL-400 | 3-1/2″-4″ |
| SL-463 | 4-1/16″-4-5/8″ |
| SL-525 | 4-11/16″-5-1/4″ |
| SL-550 | 5″-5-1/2″ |
| SL-600 | 5-5/16″-6-1/6″ |
| SL-675 | 6-1/8″-6-7/8″ |
| SL-769 | 6-15/16″-8-5/8″ |
| SL-818 | 7-11/16″-8-3/16″ |
| SL-875 | 8-1/4″-8-7/8″ |
| SL-998 | 8-15/16″-9-7/8″ |
| SL-1125 | 9-15/16″-11-3/8″ |
Double bolts hose clamp package in ready stock