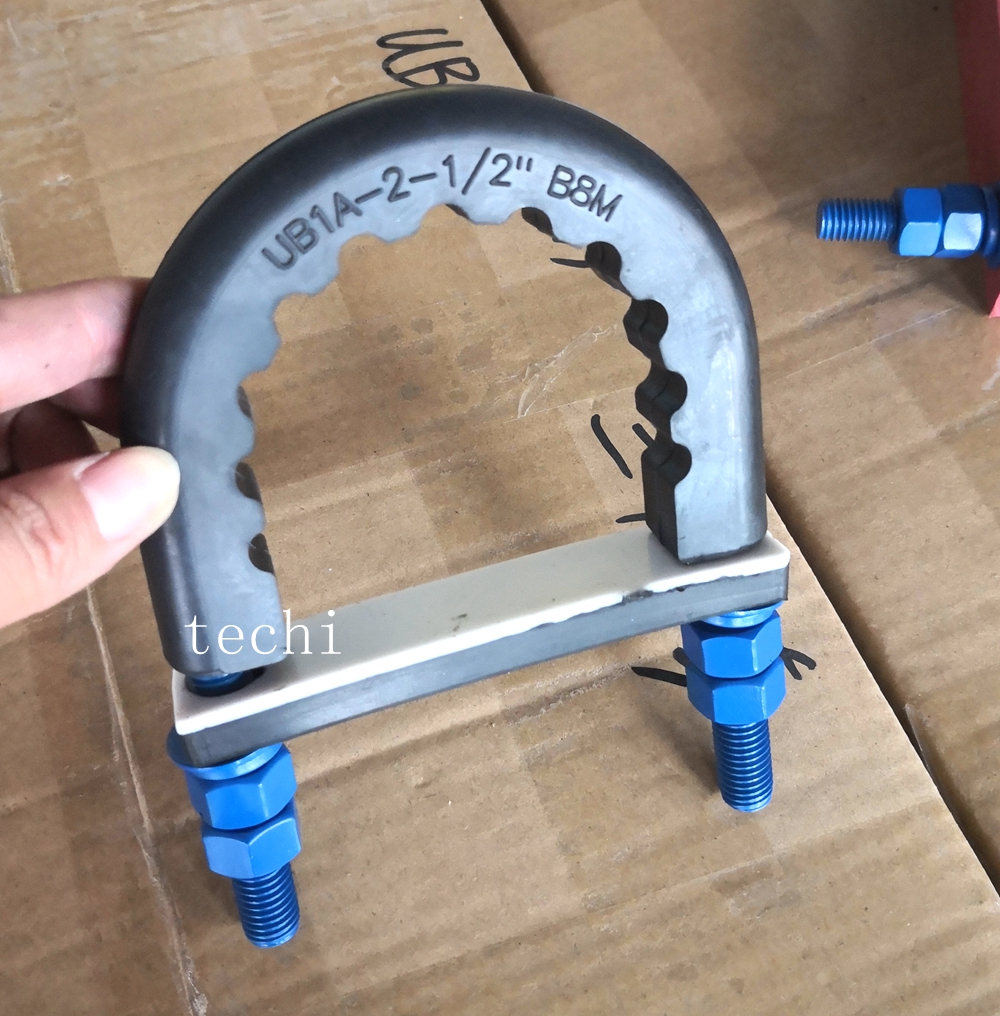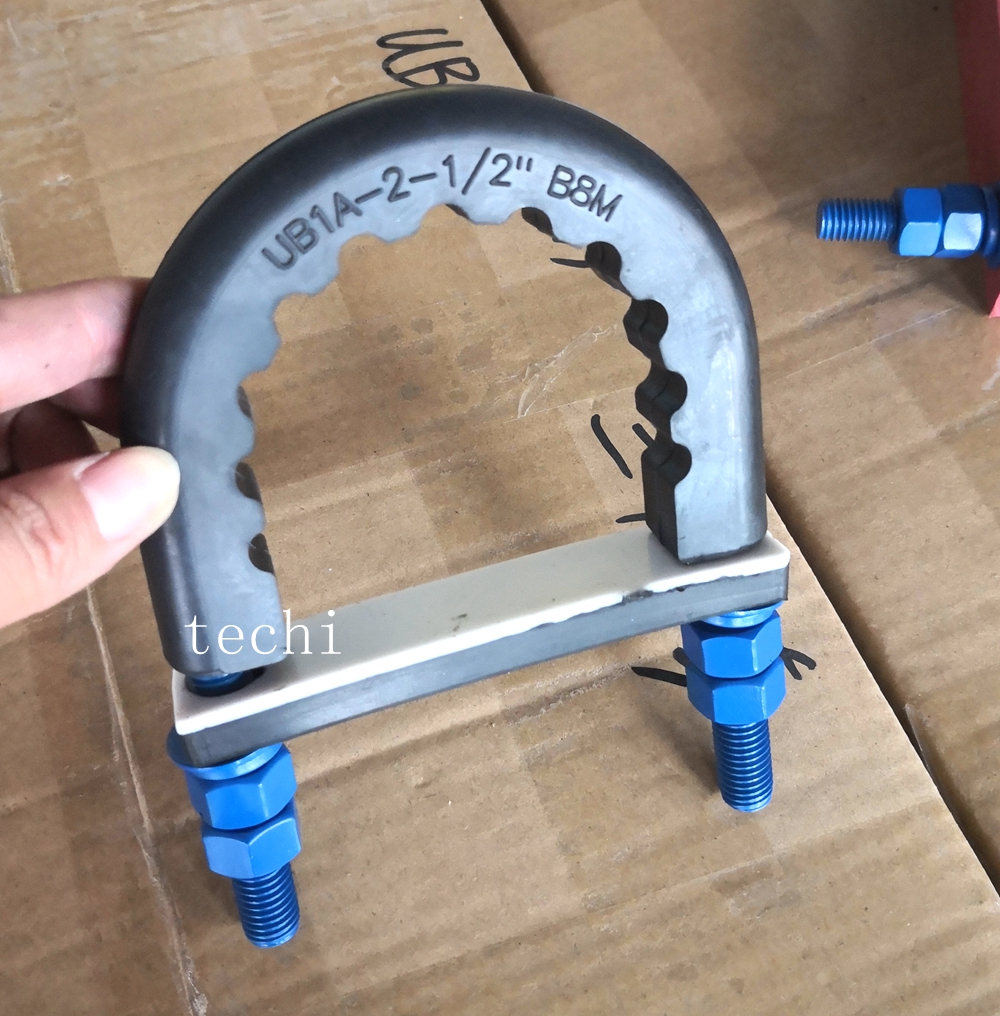 Rubber Lined U Bolt Clamp Grip Type
U-Bolt is T316 Stainless steel
Sleeve and Pad are made from  ribbed rubber inner face
BOLT WITH PTFE COATED
RUBBER LINED U-BOLT  21 MM Grip Type 
Techi Industrial are manufactured from a high quality zinc plated metal u-bolt with a fire retardant moulded sleeve that does not support the surface travel of flame.
Rubber Lined U Bolt Grip Type Material:
Anti-Vibration Rubber Lined U-bolt and Backing pad 21 mm ID (suit 15 mm NB pipe)
U-Bolt is T316 Stainless steel
Sleeve and Pad are made from , a high performance silicone compound designed for high temperature applications. It has a good resistance to seawater and excellent resistance to steam.
Bolt with PTFE coating,These include resistance to corrosion and chemical attack, superb subsea visibility, lower maintenance costs and less downtime.
Temperature range: -40 / + 200 C
Hardness (IRHD): 65-75
Tensile Strength (Mpa) : 1.4 (min)
Lateral Flow (% @ load 0.35 Mpa): 0.28
Lateral Flow (% @ load 0.70 Mpa): 0.45
Recovery (% @ compression load 2.75 Mpa) : 90
Load bearing capacity (static load Mpa) : 0.70
C/W 2 nuts on each leg
Rubber Lined U Bolt Grip Type dimention: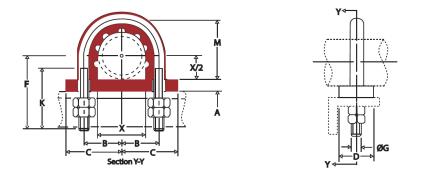 NB = 15 mm
Pipe O/D = 21.3 mm
B = 18.5 mm
C = 30 mm
F = 60 mm
G (Bar Diameter) = 6 mm
K = 60 mm
M = 29 mm
X = 21 mm
D*A (backing pad) = 25*10 mm
Advantages:
– Reduce or eliminate noise and fatigue due to vibration of pipework against the supporting structure
– Prevention of galvanic corrosion due to the contact of dissimilar metals in the presence of an electrolyte
– Prevention of wear and / or crushing of composite, thin wall or non-ferrous pipework
Also available in Zinc plated or galvanised steel. Please contact us for details
Grip Type Rubber Lined U bolt Clamp Package: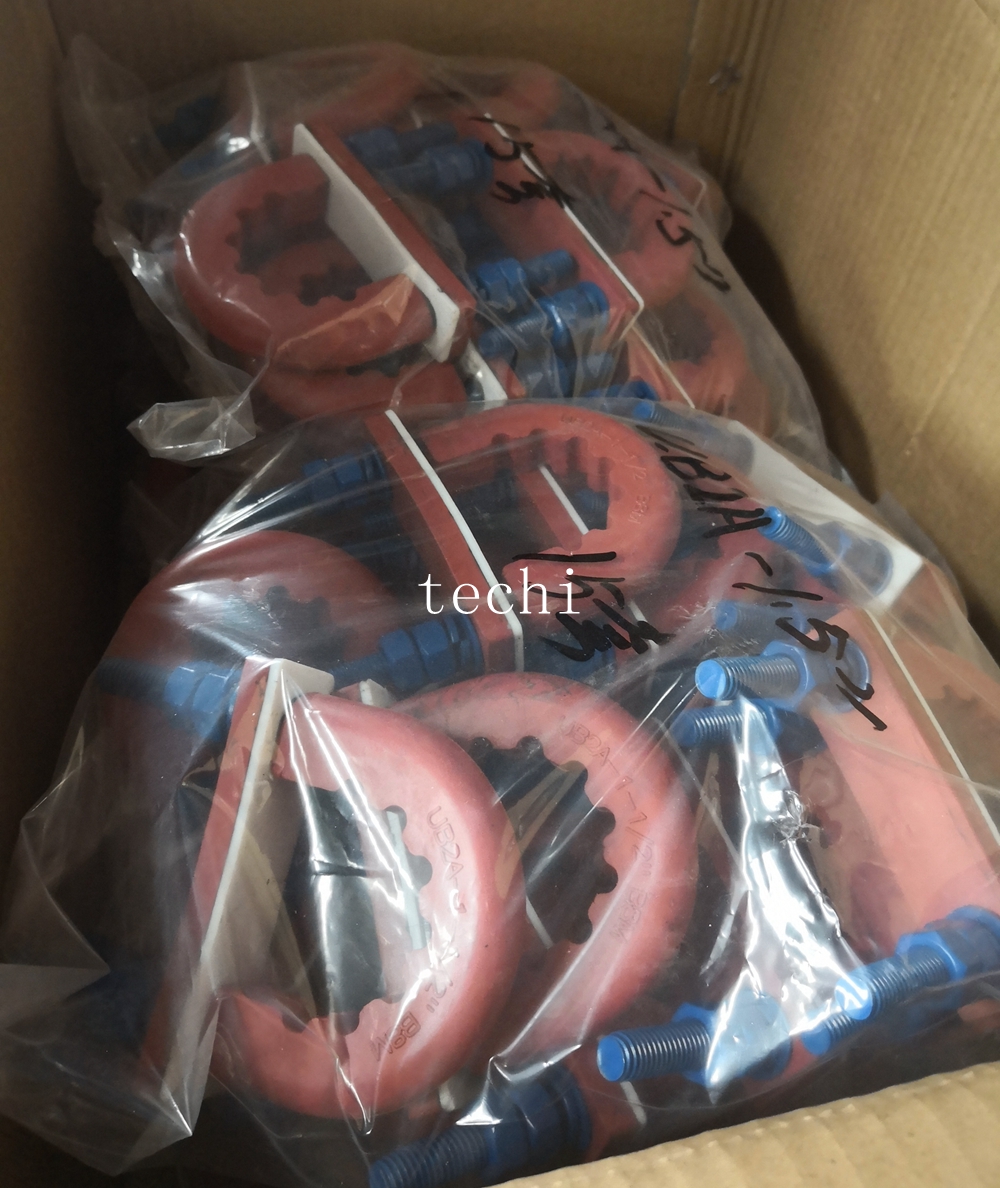 Payment & Shipping Terms
Supply Capacity
Payment Term:
L/C, Western Union, D/P, T/T
Production Capacity:
80000 Per Day
MOQ:
500 Piece/Pieces
Packing:
100/carton
Means of Transport:
Land, Ocean,Air
Delivery Date:
15 working day